OFFICE INTERIORS
Decorative Glass Films are a great way to enhance your existing glass doors and glass separations. Whether it is for decorative purposes only or for privacy, decorative glass films can really make a difference on your work environment.
A Wide Range of Applications
Decorative glass films can be used for a wide variety of applications, including:
Glass office partitions
Glass walls
Glass table tops
Glass doors
Glass windows
And more
Getting a Custom Quote
Once you've called to schedule an appointment, a member of our team will meet with you at your office to discuss your needs and design ideas. If you are working with an interior decorator or contractor we will be happy to collaborate with them. If you are not working with anyone and need assistance with concept and design, our experience team will be there to assist you.
3M™ Fasara™
Professional Window Tinters prides itself in working with the best material available. This is why we always recommend 3M™ Fasara™ glass films for all office interior applications. 3M™ Fasara™ offers superior quality, durability, and many different options for color and texture.
For more information, call: 305-261-7400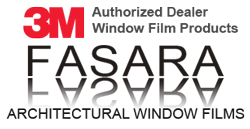 Examples of our Work